The food is pickled, and so are the people. 
61 Hanbury Street,
Spitalfields, E1 5JP

It is still not entirely clear as to why taste and smell are capable of evoking memories, both glorious and achingly nostalgic, in a way the other senses are unable to achieve. It is likely linked to the olfactory bulbs (where we process smell) location in the frontal cortex, where it holds court with the amygdala and the hippocampus, two important brain structures that are instrumental in emotional learning and memory, respectively. But so as to avoid getting lost in the grand and fascinating library of science, let's just agree that we all recognise the unique relationships that exist between taste, smell, and memory.
"Eating at Pickled Fred is like scrolling through an album of travel pictures with your friends – except infinitely more fun, and you're drunk."
So when me and The Girl were presented with many plates and glasses of delicious food and drink, spanning in influence from the eastern fringes of the Mediterranean, through India, south-east Asia, and all the way to Japan, it was not just with the pleasure of eating a good meal that we made our way through them, but also with the vivid remembrance of travelling, evoked in a detail that only food is capable of recapturing.
Pickled Fred is where we were, on the outer edges of Spitalfields Market, just east of Brick Lane. It's a big room, and it was nice to eat in a new restaurant that hadn't defaulted on the decor and just picked "Industrial Shabby Chic #2" out of the booklet. It's more leaning towards the tiki vibe – cactus knocking around, fish wallpaper, that sort of thing. When I arrived, the three staff (two of whom were the owners) were just gearing up for a busy Saturday with shots of bourbon, and they didn't hesitate to pour me one and involve me in the cheering. The bar and the cocktails are no afterthought, and you could definitely come here just for a night on the tiles; there's a dozen or so house cocktails, which also take their flavour cues from outside the occident (special mention to the Geisha's Tipple: Plum and Sichuan Gin, Basil/Tarragon sherbet, Egg White, and Orange Blossom – close your eyes and you could have been surrounded by pagodas and those little red Japanese bridges).
Before I tell you what we ate, it's worth mentioning two bits of admin: firstly, this is a great place to eat if you or one of your party is vegan or vegetarian. Most places are feast or famine in that regard; either wall to wall meat with a token sweet potato or falafel dish lingering towards the bottom of the menu, or special places that only serve plant-based food – and sadly they tend to be a bit smug and full of fucking irritating people.
Pickled Fred is a great template for everyone to follow; the range of meat-free dishes is not fussed over, it's just part of the menu, and all of them are there on merit. Secondly, pan-Asian menus are usually shit. In fact, pan-anywhere menus have traditionally been shit. That's why London has shifted wildly towards restaurants that focus on regional cuisine. Again, Pickled Fred is a great example to follow; rather than just sticking the most famous dish from many different countries on the menu, it's the flavours of those countries that have been lifted and placed onto each plate, so that what looks like a scotch egg is actually an evocation of a busy street in Mumbai.
Talking of which, the food. The first thing to arrive was the aforementioned jackfruit scotch egg with masala mayonnaise, which was deliciously crispy and spicy, and reminded me of the samosas that are fried and sold on the streets of Mumbai amidst the arid heat and dirt and the smell of oil and spice that permeates everything in that city. All these memories and sensations became luminous as I took a bite. After that came a piece of mackerel coated in a dry red paste that was packed with big flavours – massive hits of chilli and garlic and lemongrass and ginger; it was like walking through a Thai street-food market and getting caught in all the different billows of smoke. Next was chicken wings coated in Sriracha and honey; they were sticky, sweet, and crunchy, with the meat falling off the bone. You felt naughty eating them, which is exactly how you should feel when you go deep into a pile of wings.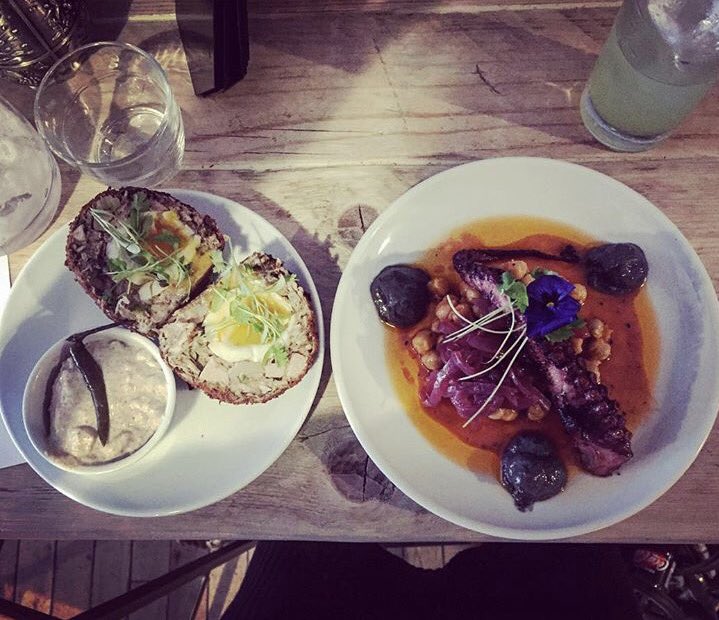 We had also ordered a bowl of the house pickles. It was exactly what it said on the tin: a generous portion of various vegetables pickled in the aromatic flavours of the far-east – all cloves and star anise. I fucking love pickled stuff, and this was some damn fine pickling. We also got a big slab of grilled octopus with black tahini, pickled red onions, chickpeas, and preserved lemons. Who doesn't love those Mediterranean ingredients? But this was definitely the tamest of the dishes. It needed a bit more punch – more garlic and citrus, and some more seasoning on the chickpeas. Having said that, the octopus was cooked perfectly, which is no mean feat.  They also do a range of flatbreads. On their own, these flatbreads are filling and delicious enough to warrant a restaurant – if all they did were cocktails and flatbreads I'd still come back here. Ours came with slowly roasted aubergine, feta, dukkah (North African spice mix), and labneh (strained yoghurt). It was the flavours of a North African bazaar, or as The Girl put it in slightly racist terms, "I feel like I'm back in Morocco, except without the creepy men."
After dinner, we got stuck into that cocktail menu. It turns out, the guys who opened Pickled Fred originally just wanted to open a bar, but could only find places with kitchen licenses, so they got themselves a chef. It shows because the booze really is as delicious as the food. In fact, those cocktails were so good that we got a bit carried away and my missus ended up falling down the stairs. Ironically, for a restaurant that has such an evocative menu, she ended up remembering very little of the night.
Pickled Fred probably shouldn't work. It's a bar with a restaurant attached that does pan-Eurasian food and plays disco music in a tiki set. Sounds like a headache. But in reality, they're producing food and drink that's as fun and tasty as anything I've had in a while. Eating at Pickled Fred is like scrolling through an album of travel pictures with your friends – except infinitely more fun, and you're drunk.